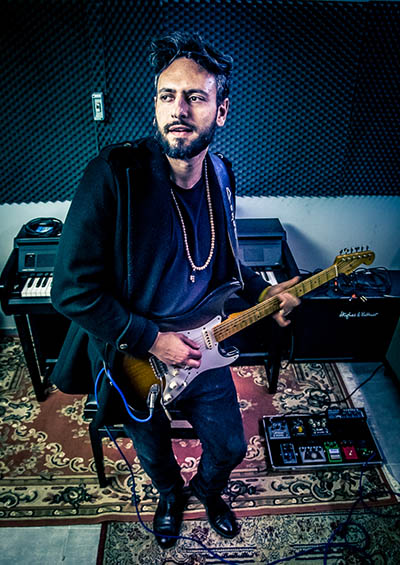 Rock guitarist. Class '82. He was born in the province of Brindisi (Puglia- South Italy ), he falls in love with the guitar when he was only 11 years old as a self-taught.
His training is mainly made up of listening live music in the clubs and listening several Album Artists. He has attended many seminars (Andy Timmons, Stefano Micarelli etc. ..) and he studies privately with the guitarist Giacomo Castellano. Listen to all the guitarists who have struck him over the years (Joe Satriani, Steve Vai, Yngwie Malmsteen, Richie Kotzen, Jimi Hendrix, BB King, Robben Ford, etc.)
When he was 16 years old he begin the first live experiences in several clubs in the province of Brindisi ( Puglia – South Italy ) and surroundings. In 2000 he moved to Bologna for university studies and there he started many collaborations. Collaborations are of different kinds and different musical genres. (Funk, Blues, R & B).
The artistic streak is Rock but with different contaminations during the years. Live experiences are always more in the different clubs of Emilia Romagna and outside the region.
Live Tour in East Europe and collaborations with different instruments brands with demo and concerts at Guitar Show, SHG, Blues Made in Italy, NAMM at Los Angeles, partecipations in television programs, festivals and recording studios.
Luigi Bellanova
HSS Modern paf+ 70 vibes / 70 vibes set
You could be interested in