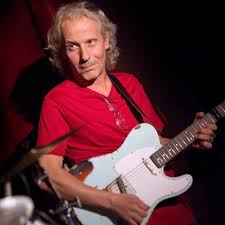 Lello Panico chitarrista, compositore, songwriter e didatta. Nell'arco della propria carriera ha suonato di tutto, dal rock al jazz, dalla musica brasiliana alla fusion e al funk, per tornare felicemente al suono del blues e al linguaggio della musica soul, suo primo e immenso amore, con consapevolezza e convinzione del principio secondo cui una chitarra elettrica, prima di qualsiasi altra cosa, suona il Blues.
Concerti e collaborazioni: Robben Ford, Jimmy Haslip, Russel Ferrante, Tollak Ollestad, Gary Novak, Reggie Hamilton, Rick Margitza, John Patitucci, Joey Calderazzo, Luca Trolli, Dario Deidda, Enzo Pietropaoli, Danilo Rea, Massimo Urbani, Fabio Morgera, Flavio Boltro, Roberto Gatto, Umberto Fiorentino, Deitra Farr, Ptah Brown, Chicago Beau, Tony Scott, Guy Antony, Tim Fritz, Cristiano Micalizzi, Shawn Logan, Francesco Puglisi, Joseph Lepore, Maria Pia De Vito, Mina, Fausto Mesolella e tanti altri.
Festival: Atina Jazz, Umbria Jazz, Alcamo Blues, Torrita Blues, Roma Jazz Image, Pompei Jazz, Liri Blues, Monteroduni Guitar Fest, Bruxelles Sounds Festival, Buenos Aires.
Song writing: Mina – "In onda" , "The secret" intero album, Blue Messengers, tutti i brani originali.
Didattica: collabora alla rivista mensile specializzata "Axe" e svolge un'intensa attività didattica. È coordinatore dei corsi di Chitarra Rock-blues presso il Saint Louis College of Music ed è autore del testo didattico "Full Optional Guitar" (ed. St.Louis, Carisch). Saint Louis High Gain Nights, Lab On The Road con Lello Panico, Lello Panico a LAB ON THE ROAD PRO.
Lello Panico plays
Classic PAF set / PAT No. set / Hybrid set
You could be interested in