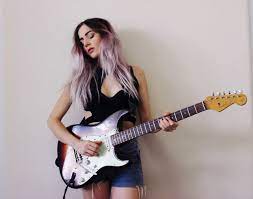 Simona Sansovini is a musician and songwriter who has combined study, passion and creativity in an extraordinarily successful blend of artistic talent and perfect embodiment of the spirit of her time.
Starting as a very young session guitarist with Italian and foreign bands, Simona has now evolved to a multifaceted artist, combining a great musical talent with the "phisique du role" of a model and the digital instinct of a social media personality.
On TV we've seen her as a guitarist in shows such as Colorado and X-Factor, and alongside Ligabue in the video "Certe donne brillano".
Her slender silhouette, flowing hair, angelic face and magnetic gaze, give shape to the glam personality which Simona embodies as a model and influencer on the web.
For a fashion model and social media influencer, music remains the dimension within which she weaves and encompasses her many professional collaborations with both music and fashion brands. (Sisley, Revlon, Shein, Laney, Eko guitars, Shure, Walrus Audio, D'Addario, Blackstar).
The dream, in which she takes the listeners through her warm voice and the fluid touch on the guitar, comes from the essence of an artist who communicates "from soul to soul".
This ability reaches its climax in her first single "Beside Me", out on May 28, 2021,future soundtrack to the advertising campaign of the Sisley brand.
Simona Sansovini plays
Hybrid set on Felix custom guitar
You could be interested in