True vintage temper
Each of the many pieces involved in the building process makes a subtle yet important contribution, and every sonic influence, big or small, will enhance or spoil the general performance of your pickup.
Some components are only able to give shade variations, while others can be as decisive as they are complex to manage; it is vital to apply expert knowledge of materials and traditional manufacturing methods, and our product, rather than a successful combination of many variables, is a hard composition of choices, without compromises.
During our in-depth studies, our attention moved to the smallest, weird features of each material's chemical, electrical and magnetic properties, because an accurate vintage replica is built following strict standards and few parameters.
Each model from each period requires specific wire, a specific number of turns, and a specific magnet… but it's not that simple!
Good results can be achieved thanks to a skilled selection of the best parts around, and the pickup will probably look and smell like the original: proper materials and correct dimensions for a replacement. But does it play like it? Not to our ears.
Vintage tone is a precise feel, the clear presence of unique features, frequencies that define the true temper of that legendary vintage tone, and a faithful replica needs old manufacturing techniques, as well as the adeguate alloy reproductions.
The quailty grew up immediately and with it our collaborations with great masters craftmen and pro musicians, the finest players, competent and with a rich vintage guitars collection.. we have spent days & nights talking, testing, waiting and following our Ideal of perfection and never give up.. efforts and sacrifices ..
So this blog It's our way to thank you for trusting us, trusting Celentano pickups means supporting quality in music, and hard craft job..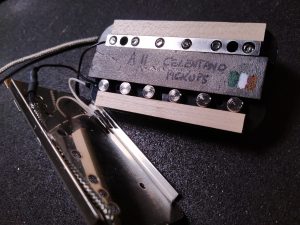 Our certificate is a lifetime warranty and a commitment to quality.
As you have probably understood, we care about every single detail, every pickup is built to order, handmade with 100% vintage accurate parts and scrupulously tested before shipping.
On our certificate you will find all the info about components employed, as well as installation instructions.
Please leave us your feedback on our dedicated comments section, and read reviews from other guitar players.
On our blog you will find more articles, interesting reviews, pickup ratings, and comments about our products from the amazing players we had the pleasure to work with.